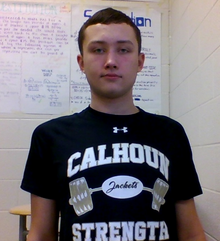 Cameron Waycaster is a famous youtuber known as ''Rowdyruffboy120'' and currently named 'Cameron Waycaster (School Account)'. He cancelled Millard Fillmore in 2014 because of the haters and erased it from history forever. He revived it in 2015 and made a series named Millard 2.0, but it wasn't successful at all. He also said he would quit making cartoons due to trolls and haters ranting on his shows, and because of this, he almost called the cyber police to search for the troll. He finally quit making cartoons in October 2017.
Edit
The possible reason Millard Fillmore was so bad is because most episodes had no color, and it was awfully similar to Greeny Phatom without even trying.
Edit
Today, Cameron reviews action figures and makes random videos. As of November 2015, he is a proud fan of the Alabama Crimson Tide, Kennesaw State Owls (Georgia), and the Texas Longhorns. For professional sports, he is a fan of the Atlanta Falcons (NFL), and the Pittsburgh Penguins (NHL).
Edit
TV Shows C

reated

Edit
Tom And Brian: Flea Market Adventures! (1998-2000)
Jane Justice (2008)
Millard Fillmore (2011-2014)
Froggy's World (2011- 2012)
Brad Cate (2012)
Greeny Phatom (4 episodes) (2012-2013)
Goatman's World (2012)
Infusion The Pencil (2010-2013)
Battery Kid (2014-2015)
Jane Justice (2014-2015)
Julie The Cowgirl (2015) (Lost Cartoon, only 1 clip of footage was found and recovered)
Millard 2.0 (2015)
Cam Ryder (Cartoon) (2015-2016)
Cam Ryder: The Anime Series (2016) (only one episode made)
Cam Ryder (Live Action Series) (2016) (Hiatus)
Cam Ryder 2.0 (2016-present)
The Max Nesbitt Show (2016) (Hiatus)
Voice Roles
Edit
Quest Of Bluefire (2016)- Bill, Vinque, Police Officer, Mutant Pig
Ad blocker interference detected!
Wikia is a free-to-use site that makes money from advertising. We have a modified experience for viewers using ad blockers

Wikia is not accessible if you've made further modifications. Remove the custom ad blocker rule(s) and the page will load as expected.