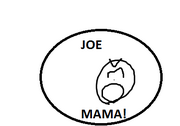 The Joe Mama was a classic scream recorded in 2012 for a movie called Camp Scout Horror. Since then, Cameron has used it in Youtube Poops, and movies with his dog in it.
When Millard's goofy voice was dropped down, Cameron decided to give the voice to his dog, Rankin. When something happens, he screams the Joe Mama scream. It was also used in Greeny Phatom.
Cameron did the Joe Mama Scream, not Rankin.